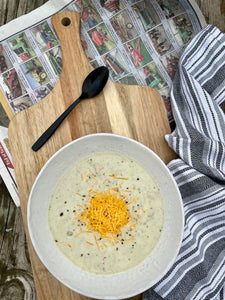 WHAT YOU'LL NEED:  1-1.5 lb. bone-in chicken breast  48 oz. broth  1 tbsp. lard (can be replaced with oil of your choice - we just prefer animal fats in our house)  1 small bag of frozen gnocchi (about 10 oz.) 1 tsp. minced garlic  3/4 cup chopped onions  3/4 cup chopped celery  1 head of broccoli (cut into florets)  1 cup of cream cheese  3/4 cup heavy cream  DIRECTIONS: In a medium sized Dutch Oven, heat your tbsp. of lard until liquid consistency. Then, add minced garlic, chopped onion & celery. Cook until onions become translucent.  Add in broth, bone-in...
---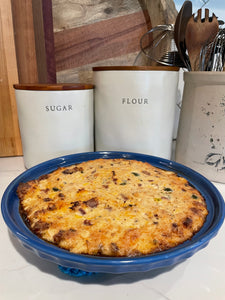 WHAT YOU'LL NEED:  2 Packs of HC Chicken Tenders (approximately 1.5-2 lbs.)  1 Pack of Jowl Bacon (0.5 lbs.)  White Label Musket Powder Seasoning (to taste)  8 oz. Cream Cheese Smith's Jalapeno Farmer's Cheese (plain if you're not into spicy)  1/2 cup of Ranch Dressing  1/2-1 cup of shredded cheese (we prefer 1/2 mozzarella 1/2 cheddar)  DIRECTIONS: Pull cream cheese & farmer's cheese out of the refrigerator to soften Preheat oven to 350*  Over medium heat, cook jowl bacon in a large skillet  Once bacon is cooked thoroughly, set aside on a plate to cool  In the same skillet, cook...
---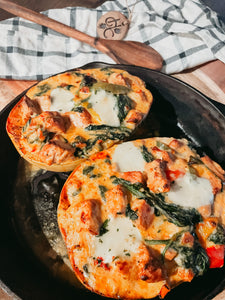 WHAT YOU'LL NEED:  1 Large Spaghetti Squash  1 Pack of Hidden Creek Chicken Breast 8 oz. Heavy Cream  8 oz. Whole Milk (possibly more to thin out sauce)  1 Cup Shredded Mozzarella Cheese 3 Cups of Baby Spinach  1 Red Bell Pepper Sliced  1 Jar of Aldi's Roasted Red Pepper Pesto (Optional but we highly encourage) Marinated Mozzarella Balls (Optional)  3 tbsp. Olive Oil  2 tbsp. Butter 1 - 2 tbsp. Flour or Corn Starch (your preference)   Gold Label Musket Powder Seasoning to Taste  Garlic/Salt/Pepper to Taste  DIRECTIONS Preheat oven to 400* Cut your spaghetti squash in half, long ways,...
---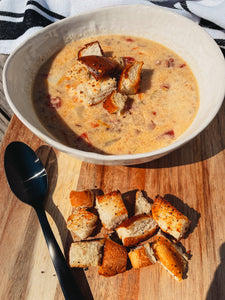 WHAT YOU'LL NEED: 1 lb. Hidden Creek 80/20 Ground Beef  3-4 Slices of Hidden Creek Pepper Bacon  1 Stick of Butter  1 Chopped Red Onion  1 Cup Shredded Carrots  1 Cup Diced Celery  1 Can of Diced Tomatoes (14.5 oz.)  2 lbs. Diced Potatoes  1/2 Cup All Purpose Flour  4 Cups Shredded Cheddar Cheese  1 Container of Hidden Creek Chicken Broth (28 oz.)  3 Cups Whole Milk  1 Teaspoon of Salt  1/2 Teaspoon Pepper  3 Teaspoons Black Label Musket Powder  2 Tbsp. Ketchup  1/2 Cup Sour Cream  DIRECTIONS: Using a small skillet, cook 3-4 slices of pepper bacon thoroughly and...
---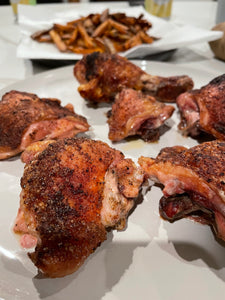 WHAT YOU'LL NEED: 1 pack of Hidden Creek chicken thighs 2-3 tbsp. extra virgin olive oil   2 tbsp. Musket Powder seasoning of your choice (we used the Gold Label & highly recommend)  Kosher Salt  Ground Pepper  DIRECTIONS:  Completely thaw chicken thighs and pat dry with paper towel once removed from packaging.  Preheat oven to 400 degrees.  Line a baking sheet with parchment paper & place dried chicken thighs on top.  In a small bowl, mix together olive oil, Musket Powder seasoning, salt & pepper to taste.  Using a basting brush, coat chicken thighs on both sides & be sure...