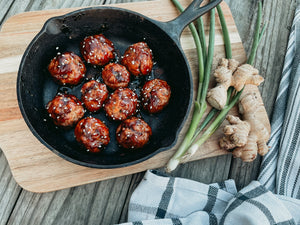 WHAT YOU'LL NEED:  For the meatballs 1 lb. ground chicken  1/2 cup bread crumbs  1/2 cup of chopped green onions  2 cloves of minced garlic  1 tsp. of minced ginger  1 egg  2 tsp. sesame oil  1 tbsp. of low sodium soy sauce  1/4 tsp. of salt  For the sauce  1/3 cup of soy sauce  1 tbsp. of rice vinegar  1 clove of minced garlic 1/4 cup of honey 1 tsp. of sesame oil 2 teaspoons of corn starch + 2 teaspoons of water   1 tbsp. Sriracha  1 tbsp. red pepper flakes   DIRECTIONS:   Preheat your oven to 425* ...
---
• Recipe
WHAT YOU'LL NEED:  2 packs of Hidden Creek Wings (10 per package)  3 tbsp. of olive oil  1 tsp. ground pepper  1 tbsp. ground salt  1 tbsp. garlic powder  2 tbsp. of White Label Musket Powder  4 tbsp. of salted butter  1/4 cup of shredded parmesan cheese  2 tbsp. of Italian style bread crumbs  3 cloves of freshly minced garlic  1 lemon, halved  DIRECTIONS:  Preheat grill to 350 degrees.  Toss thawed out wings in olive oil, pepper, salt, garlic powder & musket powder until they are evenly coated.  Once grill comes to temperature, place wings on grates & cook for...
---
WHAT YOU'LL NEED: 1 rack of pork spare ribs 1 tbsp. of ketchup  1 tbsp. Worcestershire 1/4 cup Bee Crop hot honey  1 tbsp. of crushed ginger (I buy the tube of it in the refrigerated section at the grocery store)  Freshly minced garlic to your liking 1/4 cup of brown sugar  1 tbsp. Sriracha  DIRECTIONS: Preheat oven to 275.  While the oven is heating up, generously season ribs with salt, pepper, & any thing else you feel you need. We love Pampered Chefs 5 spice and added that graciously. Once seasoned, cover & seal with aluminum foil.  Place covered rack of ribs...
---
• Recipe
WHAT YOU'LL NEED: Garlic Powder (or minced garlic if available) Olive Oil Cooking Spray Italian Seasoning  Half of A Stick of Butter  One onion  Salt & Pepper to Taste  Everything But The Bagel Seasoning Half a Chicken (or double the recipe to feed a larger family with a whole chicken)  DIRECTIONS: Preheat the oven to 420 degrees. Take thawed bird & pat dry with a paper towel, removing excess water & fluids. Spray the roasting pan or baking sheet that you are using to cook the chicken with cooking spray to make sure that the meat does not stick.  Take...