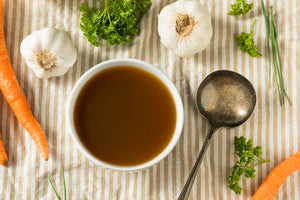 Hidden Creek Farm
DIY Bone Broth Kit
Regular price
$54.00
Sale price
$70.00
Unit price
per
1 Pack of Short Ribs (the most collagen dense piece of a steer) 
1 Pack of Shin Meat 
1 Bag of Soup Bones 
1 Pack of Beef Marrow Bones 
1 Pack of Chicken Feet 
Bone broth is becoming more and more popular in health conscious individuals & making your own is so easy if you have the right tools. It is rich in minerals, vitamins & amino acids that promote bone strength in a liquid form that is easy for your body to absorb. Our bone broth kit comes with a mixture of animal bones that create a nutrient dense & wholesome end product. 
You can make bone broth by simply simmering all of your ingredients in a slow cooker or stock pot. All you need is 4 tsp of apple cider vinegar to help extract the nutrients of the bones, 4 lbs. of animal bones, water to fully cover contents of pot & salt, pepper, celery, carrot & onion for added flavor if you wish. 
Why pay high dollar price tags for someone else to do it for you when you can source your ingredients from a farm you trust? You can drink bone broth daily, use it in your cooking, or pressure-can and save it for another time. I am personally comfortable using broth for up to a week in my fridge & either freeze or can what is leftover. 
---